We recently stayed the night in the beautiful mountains of Colorado. When we took our first hike near the house we were staying in, my daughters led the way. My 2-year-old son and I followed closely behind. By the end of the hike (the very small hike I might add – some would just call it a walk), I was overwhelmed and reminded of God, my father in heaven. I was reminded of my own faith journey. And I was reminded of the overwhelming love and grace of our God, the father.
Reminder 1 – When We Refuse to Obey
At the start of the hike, straight away, my son refused to hold my hand. He saw his sisters hiking along ahead of him. He likely felt my prying strength controlling his speed. I guided him past thorns, past dangerous sticks, around animal poop. I lifted him over broken logs. But even so, he did not notice this. He thought he could do it on his own. So I let him… for a little while. I watched him from a safe distance try to do it on his own.
I wondered, "do you really think you can do this better alone?". He did.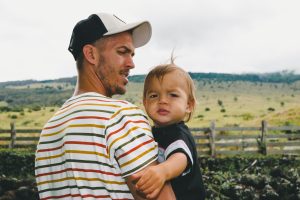 But it didn't end well. Within in a few seconds, he was tripped up by a decent size log. Bam. Right on his face, he fell. He cried. He wailed. He even looked to me with a level of disgust… "like, hey man, why did you let that happen!?"
As I moved toward him to comfort him, I chuckled. The whole situation just rang familiar to me.
I thought of the young me. All the times, I refused to obey or refused to acknowledge God and his teaching… "No God. I got this". And for a while, I did. But sure enough, just as a 2-year-old wandering through the woods, I fell flat on my face. In the past, I even had the audacity to blame God for letting it happen. Oblivious of God standing there and demanding my hand, prodding me to walk in a different direction.
And it wasn't just the younger me. I still do the same now. I hear his prying. I hear his voice. I read his word. But sometimes, I still disobey. And when I fall flat on my face, He is there waiting for me. As I picked up my son and carried him over the next few logs and wiped his tears, I realized how often I stumble and how often God does that for me.
I guess seeing more clearly this illustration of me and my son shed some new light, or old light I chose to forget…
We are his children. He knows what is best for us, just as we know what is best for a 2-year-old. As parents, we can see the upcoming danger. And we are willing and ready and yearning for our kids to listen and to take our hand. It is no different with God. He knows what we need. He knows what lies ahead. We just need to be willing to take his hand.
And when we take his hand…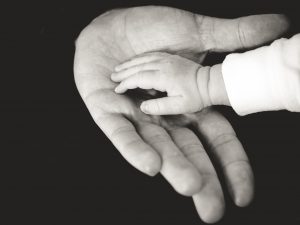 Reminder 2 – When We Hold His Hand
When we hold his hand, we remain close.
As my son and I strolled down the next part of the hike, he allowed my hand and my discernment to guide him. I guided him to a beaten down path, easy to walk in, easy to see the way. He was able to run a bit more free. We made it to the bottom of the wood. We sat, we enjoyed the view, we took a breath. We had peace.
In life, isn't it just the same? When we rely on God for our guidance and our strength and our path, we have peace. We can make it where we need to go. Maybe not where we want to go, but where we need to go. And when we get there, we can breathe, we can enjoy a moment of serenity and joy.
I have learned time and time again that the truest joy and peace I have ever encountered is in the Lord.
Do I forget? Do I still sometimes elect to not hold his hand? Yep, I guess I do. But walking with my son, I was reminded of a truth I needed to relive. In God and with God, is where we ought to be and where we are best equipped for life's walk.
Reminder 3 – God Adores Us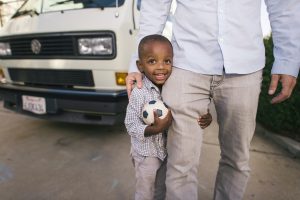 On the walk back up the mountain, I let my son walk ahead of me. His confidence and ability was restored after allowing his father to lead (wink wink).
I took a step back and I watched him. I smiled. I damn near cried! Because I love him so much. He brings me delight. He brings me joy. He is made in my image.
How often do we forget? How often do we forget that we are God's children? How often do we forget He is delighted in us? How often do we forget we are made in his image?
I stood back and I watched. I thought of his future. I thought of the man I hope I am able to shape him to be. I hoped he would listen to my instruction. I hoped he would hold my hand. I hoped that he will know that I would always love him and would always forgive him. No matter what. I hoped he found joy in my presence.
I snapped a picture. And then I prayed.
I prayed to my God, my father. I repented of all the times I chose not to hold his hand. I thanked him for the times he picked me up and dusted me off. I thanked him for the guidance, for the help, for the blessings, for the peace and for the joy. I thanked him for the unconditional love. And I reminded him that I do find joy in him. And I pledged to continue to try and make him proud.
And I pray you do the same…